We all have fond memories of our time in school. many teachers have impacted our path of knowledge in many ways. Some motivated us, some sparked curiosity in us and some opened the doors of wisdom in ways that we will never forget.
Even though teachers are feared while we are at school, in later years we all realise their value and importance. And we truly are able to appreciate their contribution to our growth and success.
This wonderful gift mug for your favorite teacher makes a lovely memento for him or her! The print on the mug reads: Dear Teacher, Thanks for taking our hand, Opening our minds & touching our hearts.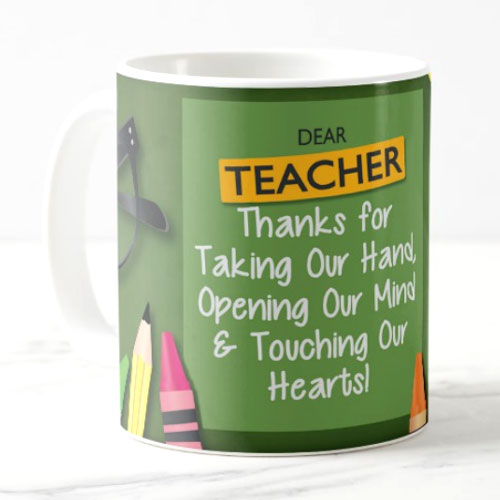 A lovely personalised gift for teachers, this mug is perfect for the teachers who've helped you grow through the years . With their name on it, it's sure to put a big smile on their face. Hand it over on Teachers' Day or anytime to acknowledge their contribution to your life. 
East or West, my teacher is the best! Which teacher would not love to hear this from their students! This is what makes this great mug gift perfect for Teachers Day as it says 'Worlds Best teacher'. You can expect this to be a permanent fixture on his/her table.
Teachers are the ones that lay the foundation to our educational and career paths ahead. It is important to value and recognise their contribution and let them know the part they played. So this Teachers Day make sure you make them feel special by giving them wonderful gifts and celebrating with them in the special way they truly deserve.