With Rakshabandhan coming up starts the mad scramble for Rakhi gifts. Every sister wants to get that perfect gift for her favourite brother. Check out some interesting gift ideas for your bro, easily available online.
Tease your brother with this gift box that has "NOTHING" in it! It's a fun gift that will make him mad at you when he sees the 'nothing' in the box but then the write up inside will surely make him laugh out loud.
A personalised fridge magnet with your pic with bro is a sweet gift for him, especially with the message that celebrates your friendship with him and not just sibling love. Make sure you put a nice photo of him on it though!
Get this cool text t-shirt with your very own personalised message on it. Crack a joke or express your love, the choice is yours, either way this unique gift will make him happy.
Every sister feels her brother is the best and coolest one on the planet but may not always admit it. Let your bro know how you feel with this coolest bro mug & a personalised clock that says he's the best!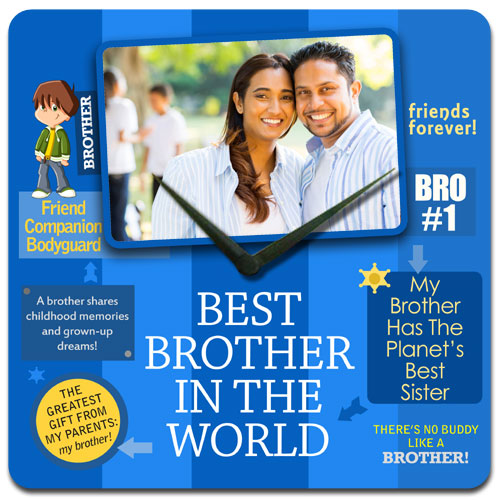 Rakhshabandhan is a great occasion to tell your brother how much you love him and get away without looking soppy! So open your heart and get your bro gifts and treat him the way he deserves to be treated.