Is your brother the best in the world? Well then make sure he knows! You may have had your fights and arguments galore with your brother but you know in your heart how much you love him, and he deserves to know it too. So make him feel special with these gifts for brothers.
If it's his birthday gift him this cool sipper bottle that says 'Brothers make the best friends'. He might not admit it but it is sure to please him. And it's a practical & useful gift too.
This cute mini snow globe is a great personalised gift for your bro with a photo frame. It is a unique gift which fits any occasion or as a memento he can keep with him forever.
Let him be reminded of you every morning when he wakes up and looks at the time. This cool personalised wall clock carries your favourite pic with your brother and lots of compliments to make him feel on top of the world. Or keep it simple with a photo fridge magnet that he will see whenever he opens the fridge.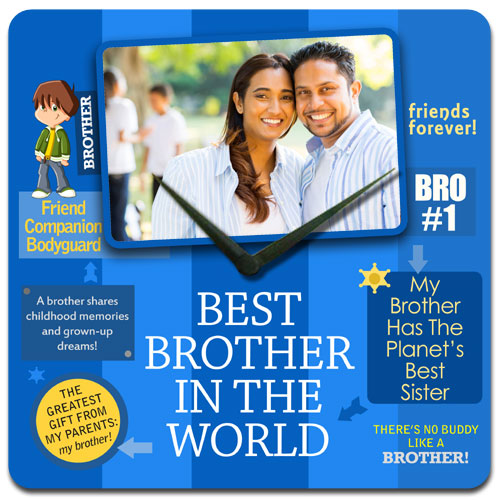 If you're not great at expressing how you feel in words, this set of Best Brother Cards will do the job for you. With funny, quirky and emotional messages, they do the job for you and make his day.
Be it a birthday, or great results at school or a college graduation, it's never too late or never too much to let your brother know how much you love and appreciate him.